Malcesine - Geography
The etymology of the name Malcesine is said to derive from Mala Silex, or misshapen stone. This first town on the Veronese side of Lake Garda, situated to the northeast, has a population of about 3,600 residents. The borough of Malcesine develops from the shores of Lake Garda towards Monte Baldo and includes districts Navene and Cassone which has the shortest river in the world, the Aril, which is about 175 metres long.
Specials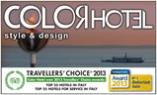 Color Hotel
Color hotel style & design in Bardolino, Feel the magic Atmosphere...
Discover our special Color packages!